Things to consider for expats buying a UK property.
If you're an expat looking to buy a UK property, there has never been a better time. Currently, the UK is renowned for its stockpile of property available to overseas landlords. The capital and North West region, in particular, still attracts more foreign investment than many other cities around the world. For expats looking to become a first-time buyer of investment property, it's best to get in with both eyes open to ensure better chances of success.
Securing an expat buy-to-let mortgage in the UK is achievable with careful consideration of your goals and how best attain them. This is our Liquid Expat guide for buy-to-let purchases…
Work out a budget and a target.
Few first-time buyers want the exact same things from their investment property. Some are looking for a quick return, whilst others like to bide their time, claiming homes in an area that is yet – but strongly tipped to – be at the top of new rental searches.
Bear your own goals in mind when you are working out what you can afford relative to the type of expat mortgage you're considering. Most lenders, for instance, ask for a 25% deposit, which is higher than the 10% or 5% a traditional first-time buyer can put down. For a £250,000 two-bedroom property, that works out at £62,500. When can you expect to get a good return on investment (ROI)? Charging £2,000 per month means it'll be over two and a half years until the initial cost has been repaid. During that time, you'll also be paying the mortgage back with interest.
In addition, the property may need to be repaired or refurbished before it is ready for market. That'll slow down your ROI. Waiting can be beneficial – an off-plan build (a new investment property that hasn't yet completed construction) may come at a 5% discount if you make an early bid. This ensures the property is ready to move into immediately, and can start earning money as soon as the doors open.
Adjusting your rent rates accordingly.
To maximise your ROI, you could raise the amount you charge in rent. But will your target demographic accept it? The culture and amenities within the local area will affect how renters perceive your property's value. So you'll need to get to know why tenants want to live there and price your rent accordingly.
We've already mentioned the 25% typical deposit requests. Did you also know that the rent you'll charge should be equivalent to 150% of the mortgage in order to secure it?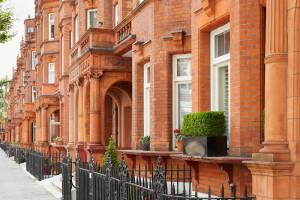 Let's suppose you have an apartment worth £160,000. You fork out £40,000 of the cash up front, leaving £120,000 outstanding with a 4.5% fixed-rate expat mortgage over 10 years. That's a repayment of £1,045 every month – the rent, therefore, should be just over £1,500. The bank will want you to outline these calculations before you apply for a loan.
Don't forget associated fees.
Beyond the central loan costs, you'll also face arrangement fees for low-interest mortgages, conveyancing fees and admin duties. Together these may rack up several thousand pounds. Spare a section of the budget, just in case you have to dip into it.
If you own the property in your adopted country, you will also have to pay stamp duty land tax when investing in UK property, even if this is your first UK property purchase. This has recently started to bear a 3% surcharge. Investors can avoid that by renting wherever they're based and buying a single rental property in the UK. For all other situations, however, the landlord will need to pay the higher stamp duty rate.
Use your property agent, surveyor, accountant and expat mortgage broker to see what the best route forward might be. The sooner you move while the buy-to-let market is growing, the more you'll be rewarded.
Contact.
Contact Liquid Expat Mortgages to get a smart, comprehensive list of lenders, each of which are specialised to help you with your foreign investment aims. We can provide free pre-approvals to assist you when you're exploring your finance options, and regularly source a wide range of mortgage deals for first-time buyers.